"It's like driving a car at night. You never see further than your headlights, but you can make the whole trip that way."
—E.L. Doctorow
---
Today's story is contributed by Marchell Mascheck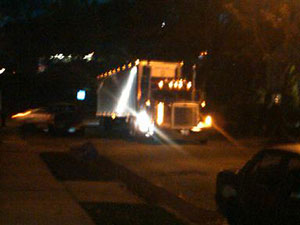 Sometimes, just being with dad is the lesson.
My father — a truck driver back in Kansas City, where we grew up.
My first driving lesson — a dark, deserted highway. It was very late at night.
Back then, cars didn't have seat belts. They were giant, clunky vehicles with massive, oversized steering wheels. This was not exactly the most conducive configuration for a driving lesson, especially since I was three years old!
Yes, that's right. A toddler. Daddy let me stand on the bench seat next to him. I was just tall enough to wrap my tiny arm around his large neck.
It was a simple and quiet experience, yet it remains one of the most profoundly memorable moments of my life. I can still remember standing on the leather seat, my feet faintly bouncing on the hard, uncushioned springs beneath.
Resting my head on Daddy's shoulder, we just cruised down that black, empty highway for miles.
It was the best driving lesson of all time. Just being with dad. Sometimes it's the only lesson in life — just being with those you love.
---
Marchell was born and raised in Kansas City, Missouri. She attended University of Houston and St. Thomas University. She has been married to her husband, Carl, for 28 years and counting. She is a recruiter for The Alexander Group, and spends her leisure time traveling and honing her photography skills. She is also an avid motorcycle racing fan.
---