"Our best successes often come after our greatest disappointments."
—Henry Ward Beecher
---
Today's story is contributed by William Homeier.
May 31, 1954
Lap 74 — The Indianapolis 500
Dad pulled into the pit.
The clutch had been giving him trouble all day.
Before his crew could finish, the clutch engaged.
The car spun around, slammed into the sidewall, and careened down the track in the opposite direction!
Not a good day for my dad.
My father still holds an Indy world record — the most laps ever completed by a last place finisher. Not the notoriety he was hoping for.
Did that set him back? Not MY dad! He was Texas-born and raised. When you got bucked off the bull, you got up, dusted off, and did it again.
After breaking his arm midget car racing in '56, Dad bounced back to qualify for Indy again in '58.
However, like in '54, it didn't work out. Mechanical issues kept him out of the race.
Finally, in 1960, Dad's luck changed — he finished 13th in the Indianapolis 500! While he didn't win the race, it was more of a victory for Dad than it was for the guy who finished first.
Years later, in 1990, my father was interviewed in a special "Where Are They Now" article for The Star newspaper.
The headline?
"Homeier was best at being last."
He laughed it off. That was my dad. Resilient. Loaded with get up and try again grit.
The lesson I learned from my Best at Last dad?
Winners don't always cross the line first… but they never stop running the race.
Bill Homeier — my dad — A winner in every sense of the word.
---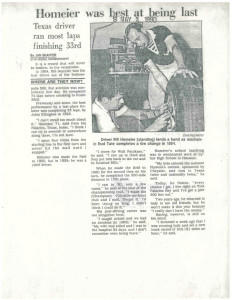 ---