"I remember the time I was kidnapped and they sent a piece of my finger to my father. He said he wanted more proof."
—Rodney Dangerfield
---
Today's story is about Urban Meyer.
Nature versus nurture? Which one really makes the difference? In the case of Ohio State football coach, Urban Meyer, it's crystal clear.
Urban grew up in Ashtabula, Ohio. His dad, Bud, was a chemical engineer. Bud was tough, strict, and extremely nonpermissive with Urban and his two sisters. B's or better on all report cards — C's were average… and average was failing in Bud's eyes.
In the third grade, Urban started acting up at school. Enter Betty Stofko, Urban's third grade teacher. Bud, strict father that he was, told Betty, "Give him a good spanking." Betty said she couldn't without a parent's written permission. Bud signed a note on the spot.
"That was the end of the nonsense," Betty said. "All I had to do was show him the note in my drawer, and he behaved."
As he got older, Urban's punishment for misbehaving came in the form of running laps around the neighborhood. After a game losing strikeout in a high school baseball game, Bud made Urban walk the ten miles home.
Urban's childhood friend, Tom Penna, recalls,
"We were afraid to pick up Urban and give him a ride. You could tell that his dad was strict. When we were at his house, we didn't fool around."
Urban went on to play football for University of Cincinnati. He then established a reputation as "Coach Meyer," one of the best (and most demanding) college football coaches in the game today.
Urban attributes much of his success to Earle Bruce, the former Ohio State coach who mentored him as a graduate assistant in 1986–87. He acknowledges Bruce as his "second father."
Referring to his double tough dads, Bud and Bruce, Urban says, "I think they both are about doing the right thing. There's a lot of things that are important, but doing it the right way is probably the most important. They're family guys and hard workers, who don't take shortcuts."
As a kid, Urban had a picture of legendary Ohio State Coach Woody Hayes hanging in his room. When Urban came home to accept the head coaching position at Ohio State University in 2011, his childhood dream had been realized.
"Everyone says this is his dream job, but I think it was [Bud's] dream job, too," says Urban's friend Penna. Bud died November 11, 2011, missing his son's formal acceptance of the Ohio State coaching position by 17 days.
Penna observes,
"The pressure to succeed is always going to be with Urban — no matter if he's coaching Ohio State, Florida, or Little League baseball. He's just driven to win, driven for success.
That's just the way he is, the way he was raised. And I think he's always going to have Bud in the back of his mind when he's out there."
So in the case of Urban Meyer — nature vs. nurture. Nurture wins big.
A tough real dad. A tough mentor dad. Two tough dads and a tough teacher named Betty (with blessings from Dad).
The result? A tough, winning coach. A heck of a man.
---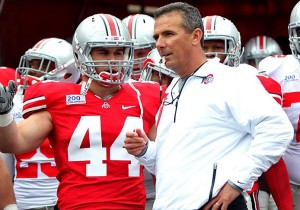 ---
Sources:
Main Article: Urban Meyer carries the inspiration of his father and a mentor to Ohio State football
Two quotes used in the story:
"That was the end of the nonsense," Betty said. "All I had to do was show him the note in my drawer, and he behaved."
Betty Stofko said in a Plain Dealer interview in 2004.
"They're very similar," Meyer told The New York Times in 2007. "I think they both are about doing the right thing. There's a lot of things that are important, but doing it the right way is probably the most important. They're family guys and hard workers who don't take shortcuts."
---