"Visualize this thing you want. See it, feel it, believe in it. Make your mental blueprint and begin."
—Robert Collier
---
Today's story is contributed by Tom Krause.
The earliest memory I have of my father is one of me as a young boy holding his hand by his two last fingers as we walked together. His hands seemed so large. His fingers were all I could actually grip.
My father was a bread deliveryman. I remember the times when he would stop by the house in the early morning on those cold days when I was home from school over Christmas break. I would ride on the floor of that bread truck as he made deliveries to the stores. I don't remember if those old trucks even had heaters. It didn't matter. The smell and warmth from the bread that had just come from the bakery ovens would both make my mouth water and keep me warm at the same time.
In high school I became interested in athletics. My father would attend all my games.
My junior year something special happened. It was in algebra class during the spring of the year. Football season was over. We had done well last season — qualifying for the playoffs for the first time in school history. I wanted us to do even better next year, my senior year.
Then the idea hit me. I was so excited, I didn't even wait 'til after school. During my lunch break, I drove over to a print shop and ordered business cards with a simple, direct prophesy:
"BOONVILLE PIRATES — 1974 STATE CHAMPIONS"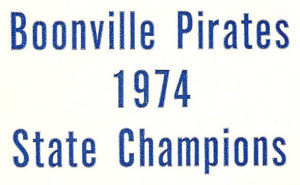 When the cards were printed, my teammates and I distributed them all over town. Teachers pinned them to classroom bulletin boards. Merchants taped them in store windows. Pretty soon those cards were everywhere.
We wanted our goal to be right in front of us, for all to see, impossible to overlook, no matter where we went. Our school had never won a state title in any sport — we were determined to change that history.
When football practice started in late August we were focused. From day one we gave more in practice, paid more attention to detail as we executed assignments sharply.
With our goal imprinted in our minds and hearts — "BOONVILLE PIRATES — 1974 STATE CHAMPIONS", we marched through the season undefeated and stepped into the playoffs with a sense of destiny.
The first playoff game matched us against a powerhouse team that was riding a 28-game winning streak. We knew we were in for a fight, but as the intensity of the game increased, so did our determination.
We won, pulling away in the second half. That win brought us to the brink of our goal, a match-up with the defending state champions for the title. We went into preparing for the big game with the same intensity and focus we had shown as a team all season. Then it started to snow.
A huge winter storm blew through the area. School was cancelled; roads were closed; transportation systems shut down. Still, somehow every member of the team made it to the school gym and we practiced for the biggest game of our lives in tennis shoes.
Then, because of the severe weather, our coach received a phone call telling us that state officials were thinking of canceling the game and declaring co-champions. We were asked if we would accept such a decision. "No way," was our response. We believed this was our year.
That night my father came to me and sadly announced that he would not be able to attend the game. He had to deliver bread to the stores. The game was over a three-hour drive from his route. He vowed to listen to every play on the transistor radio. Consumed with the anticipation of the game, I acknowledged his comments without fully noticing his regret.
The next day as game time approached I couldn't help thinking about my dad. As we arrived at the stadium we found the field buried in snow. The goal posts stuck out above a six to eight inch blanket of snow. Someone asked if snowshoes would be allowed as legal equipment. Undaunted we dressed for the game and began our warm-ups.
Frustration grew as both teams struggled to a scoreless first half. Slip, slide, fall down, dropped pass, missed blocks, fumbles were all either team had accomplished. There was a growing sense of urgency that time was running out on our dream.
In the locker room at half-time, Coach Reagan reminded us of all we had been through to get to this moment. Then he reached in his pocket and pulled out the card.
"Do you want this?" he said. That is all he needed to say.
As I lined up for the second half kickoff I happened to looked up and noticed a blue and white bread truck pulling into the parking lot. Dad had delivered the bread and driven over three hours to see the second half of the game.
We scored 34 points in the second half on the same field we couldn't score any on in the first half. Our year-long dream became reality. To this day I still have my card.
Years later I had become a teacher and coach. Early one morning I was awakened by the sound of the telephone ringing at 5:30 A.M. As I struggled to answer the phone I'll never forget the sound of the sheriff's voice on the other end telling me that my dad had just been killed in an automobile accident on his way to work. He was killed instantly. As I listened to the story I could hear my heart throb in my ears. I hung up the phone devastated.
For a long time after that things really didn't matter to me. I went about my life but I really didn't care. It felt as if my heart had been torn away. In a sense it had. I went to work. I still taught school but I was just going through the motions.
One day I was on the school playground supervising a first grade recess when a little boy walked up to me. As I looked down at him he reached up and grabbed my hand by my last two fingers — just like I use to do to my dad.
In that moment my father came back to me.
In that instant I realized that even though my father was gone — he had left me something behind. He had left me his smile. He had left me his compassion. He had left me his heart.
When that little boy touched my hand I realized that all these wonderful gifts that I had loved so much about my father could be passed on to others. In that moment I understood the meaning of the word heritage.
I now spend my days passing on that heritage to my 8-year-old stepson and 3-year-old son; a heritage not only about fathers, sons and sports. A heritage filled with love.
Great dads may die, but their heritage lives on.
---
---
Tom Krause is the author of 'Touching Hearts, Teaching Greatness — Stories From A Coach That Touch Your Heart & Inspire Your Soul', published by Andrews McMeel Publishing. Tom also has been a contibutor to many books in the 'Chicken Soup for the Soul' books series and is co-author for 'Chicken Soup for the Coach's Soul'. To be inspired by Tom, check out his website at www.coachkrause.com
---