"Music gives a soul to the universe, 
wings to the mind, flight to the imagination, 
and life to everything."
—Plato
---
Todays story is courtesy of RJB Productions.
Music. "Soul to the universe. Wings to the mind." With Plato we agree.
Today our story is music in form. It's quite a treat.
Perhaps a coffee or tea, a comfy chair, and put up those tired feet.
Now close your eyes and relax your mind.
One warning, a Kleenex you may need to find.
The Blind Man in the Bleachers by Kenny Starr.
One parting note to our dads out there…
"Your kids don't care how tall you grow, how smart you appear, how much you weigh, or how well you tell jokes. They don't care whether you play drums, shoot hoops or shoot guns. They just need to know you're there."
---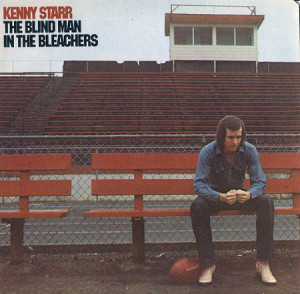 ---
Kenny Starr (real name — Kenneth Trebbe), recorded with MCA Records in the mid-1970's and was a member of Loretta Lynn's touring band during much of that time. His hit song "The Blind Man in the Bleachers" was released in 1976 and reached #2 on the U.S. County Music Chart, #1 in Canada.
---